Examples of projects completed for Main Contractors
Remeasure Example…
Douglas Estimating Ltd recently carried out a re-measure for a large-scale Tier 1 Main Contractor. DEL had been approached by another Independent Consultant to help re-measure a 250-apartment complex (€60m). The workload was split and DEL had been tasked with remeasuring the Superstructure work while the other Consultant was tasked with the basement and external works.
The project contained three apartment blocks in a prime city location. Upon completion of the remeasure, several documents were also issued explaining the difference between the original BOQ and our findings. The following is a list of element tasks carried out by DEL:
(21) External Walls
(22) Internal Wall & Partitions
(28) Frame
(31) External Wall Completions
(32) Internal Wall Completions
(34) Stairs, Ramp Completions
(35) Suspended Ceilings
(37) Roof Completions
(41) Wall Finishes Externally
(42) Wall Finishes Internally
(43) Floor Finishes
(44) Stairs, Ramps Finishes
(45) Ceiling Finishes
(47) Roof Finishes
(52) Rainwater Installations
(74) Sanitaryware
(79) Built-in Joinery and Fittings
On completion of the remeasuring exercise, an Excel spreadsheet was issued aligning our figures with the original figures. In addition to the above, a separate Excel spreadsheet was attached which highlighted missed items and items that would need to be discussed between the Main Contractor and the Design Team.
We are delighted to say the project had been awarded to the Main Contractor.
Sub-contractor BoQ Packages Example…
Douglas Estimating Ltd has recently been carrying out Quantity Surveying services for a well-established large Dublin base Tier 1 Contractor. This Contractor carries out projects throughout Ireland. We have collaborated on several projects to date and aim to build a reputable business relationship with the Company.
In this job, DEL has been tasked in preparing Sub-contractors pricing packages. DEL preformed the following tasks so that the Main Contractor can issue to the Sub-contractors:
Upload PDF drawings to the electronic measurement system
Scale check all drawings
Measure all relative items for that particular package
Prepare an Excel pricing document containing the following elements
Summary Page
Preliminaries
Subcontractors package, i.e., floor finishes for example
Dayworks schedule
Attendances sheet
Tender addendum
Check list for the Subcontractor
Pricing Tendered BOQ's Example…
Douglas Estimating Ltd has recently been carrying out Quantity Surveying services for a well-established building Contractor based in Dublin. DEL only price work for Main Contractors up to a Capital Notional Value of €2million. The project consisted of a new extension, out buildings, existing house renovations, upgrade works and finally external site & landscaping works (circa. €1m).
As this project was a yellow form of Contract, elements did not need to be measured out. DEL prepared and filled out all the rates as per the BOQ pricing document and issued the Contractor an Excel spreadsheet giving the breakdown of the rates which included Material, Labour, Plant, Overheads and Profit Margins. DEL are happy to report that the Contractor was successful, and the works will start in due course. The building work costs where split into the following sections:
Works to Existing House
Works to New Extension
Works to External Sheds
Works for Drainage
Preliminaries
Measuring & Pricing Project Example…
DEL where approached by a local Contractor in Donegal to measure and priced a new house build project (circa €600k). DEL spoke at length with the Contractor to try and identify their strengths and their weaknesses. This action was to analysis areas of works that could be more competitively priced.
DEL carried out all electronic measures and produced a detailed Tender Submission on behalf of the Contractor. The report was broken down into the following sections:
Cover Page
Index page
Notes & Exclusions Page
Summary Breakdown Page
Form of Tender Page
Pie Chart Illustration Page
Appendix A Page giving detail breakdowns to each of the below heading…

Preliminaries
Construction Guarantee Bond
Provisional Allowances
PC Sums
Profit and Attendances on PC Sums
Main Building Works

Site Preparation
Substructures
External Walls
Internal Walls
Floors
Structural Steel Works
Roof Structure
External Wall Completions
Internal Wall Completions
Roof Completions
Wall Finishes Externally
Wall Finishes Internally
Floor Finishes
Roof Finishes
Soffit Finishes
Rainwater Installation
Sanitaryware Installation
Building Fittings

External Works

Site Services
Footpaths
Paved Areas
Front Paved Areas
Driveways
Landscaping

Site Works

Stone walls
Entrance ways
Fencing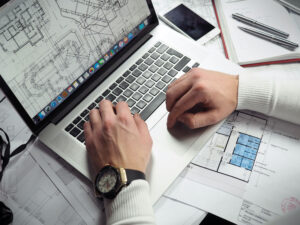 Please note…
Our project list is extensive so only a few examples have been provided here. Further samples of our work, perhaps more tailored to your requirements, can be provided on request.
We work with many established Construction firms throughout Ireland and our business model is fundamentally based on repeat business. Confidentiality is paramount to us, therefore we have not included any reference to individuals or clients in the examples provided here.
DEL only price work for Main Contractors up to a Capital Notional Value of €2million.